Colleen's directing reel is available on request
presents
A screwball comedy - with a twist!
A SAG feature starring Elisabeth Röhm, Sean Patrick Flanery and Eric Roberts. With Kristina Lilley, Rick Overton, Jim Holmes, John Fugelsang and Pisay Pao.
Foreign distribution has begun, in the capable hands of Spotlight Pictures!
Domestic distribution (US and Canada) is underway.
Here's the trailer...
the official poster...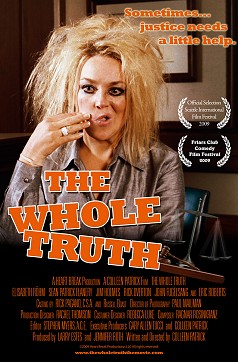 (click to enlarge)
...and some of the interviews from the EPK (Electronic Press Kit):
...and there are more cast and crew interviews on the official website.
"The cast of THE WHOLE TRUTH take tremendous risks and extend themselves further than I had ever imagined possible. Creating a safe environment in which Actors can fully experience themselves 'out of the box', takes a great deal of trust between them and their Director and clearly Colleen is a master at creating this safe environment and bond."
Russell Boast, Casting/ Director, Pagano/Manwiller, Inc.
"It's an uncommon comedy. I had a lot of fun. I was thrilled to see a U.S. comedy so extreme (well you're the country that invented political correctness, right ;-), really edgy... and I can see why people can love or hate it. It's just not what you can expect nowadays from a common comedy – or a festival film... it's bolder and riskier."
Uwe Lützen, former marketer, English speaking films for Europe
Writer/Director/Producer: Colleen Patrick
Executive Producer: Gary Allen Tucci
Producer: Larry Estes
Producer: Jennifer Roth

Writer - Director - Producer Colleen Patrick's screenplay The Director was a finalist in the 2005 Sundance Filmmaker's Lab competition; a finalist in 2008's Washington State Screenwriting Competition; and quarter-finalist in 2003's CineStory competition. In 2000 her screenplay The Lucky Penny finished in the top 10% of Austin's Heart of the Film competition, and she was a finalist in the Disney scriptwriting competition with a "Frasier" script, The Hero.
Writer-director-producer:
The Whole Truth (2010)
Heart Break Productionz first feature film.
Mother of the Year (2007)
Heinz commercial contest submission
Network TV Reality Program Pilot (2005)
America's Firefighter (G. G. Productions)
Shorts -
Mortal Wound (2006)
FYP Productionz.
Crossroads (2003)
Sometimes a life altering decision can be made with as little as a piece of candy.
A Sense of Entitlement (2003)
People who think they can do or get away with anything come in all packages.
Poetic Justice (2003)
Bad poetry undoes a tough, unflappable legal opponent.
Behind the Movie Screen (2000)
An experimental dv short in the development of Colleen's feature, "The Director."
Walls: A Silent Film in English and French (1999)
It's about the walls in our lives - real and imagined.
1999 - Premiere: The Irish Film Club, Dublin, Ireland
(Available at the Seattle Public Library)
Life As Art (1996)
Todd Ellington spends every moment devoted to his art - at the expense of everything else in his life.
"Kenneth Branagh takes more than four hours to portray the angst of Hamlet. Director Colleen Patrick needs a mere 13 minutes."
- Review, Rainy States Film Festival, 1997.
2005 Finalist, Sundance Filmmaker's Lab competition, The Director
2003 Finalist, Washington State Screenwriting Competition, The Director
1999 Pennsylvania PBS TV station
1998 Outstanding International Shorts, Vancouver, B.C
1998 Accomplished women filmmakers, Women In Film screening, Seattle
1998 SYNC, outstanding short films online
1997 Seattle International Film Festival
1997 Official Academy Award Submission; Laemelle Theater, LA
1997 Rainy States Film Festival
1997 Tacoma Tortured Artist Film Festival
1996 Grand Illusion Theater, played with Swedish classic, The Apple War
(Available at the Seattle Public Library)
A Circle of One (Post production)
A woman suffers through a tortuous group therapy session, finally pulling herself together.
IN DEVELOPMENT:
Habitat (writer/director)
A 3D animated feature.
The Lucky Penny (writer/director)
The lowest coin of the realm becomes a most valuable treasure for a lonely teenager.
The Lonely Goatherd (writer/director)
All Harry ever wanted was a wife and kids. He got half his wish.
The Director (Finalist-Sundance Filmmaker's Lab 2005)
A comedy feature about a woman producing a no-budget monster film who must assure its completion despite its director or she will lose her life savings and her show biz "career."
Vermin
A comedy feature about a café waitress who must destroy a monster governments, the military and scientists can't, or the world will be destroyed.
The Making of Vermin
Mockumentary - a spoof of behind the scenes documentaries that humorously "documents" the making of a non-existent monster movie, "Vermin."